Hello everyone, this is my first blog post ever, so happy new year, and let's check the list of books and series that I want to read and probably review in 2017.
10 - Blackdog By K.V Johansen
My Main motive to read this is that I wanted a one book fantasy story that I can read and finish without waiting for a sequel and this book was suggested to me.
9 - The Prince of Nothing by R.Scott Baker
The only information I've looked up about these books is that it's set in the past and present, with the main character telling his story to a chronicler, with the third book set entirely in the present. But I might've got it wrong, I don't know.
8 - Shattered Realms By Cinda Williams Chima
I've read book one of the sequel of this story ( Seven Realms, in the list below) and it got me hooked on that universe. Fair enough that we've got ourselves a sequel.
7 - Trinity Wonder By Jeon Geuk-Jin and Park Jin-Hwan
From the creators of The Breaker and The Breaker : New Waves, I still don't know if it's related to them in any way, but the excitement and joy you get from reading what these two make is enough of a reason to try their newest work.
PS : These are Korean Manhwa ( Comic books)
6 - The Kingkiller Chronicles By Patrick Rothfuss
This tells the tale of a young wizard who grows up to be the most known wizard in the world, apparently.
5 - Red Rising By Pierce Brown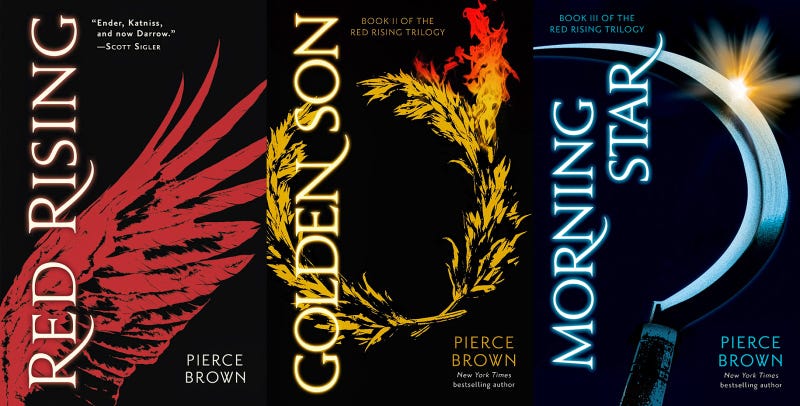 Suggested to me by my best friend, why not give it a try then.
4 - The Heir Chroniles By Cinda Williams Chima
The story of how the real world and secret fantasy societies interact and the links between them, definitely a top priority for me this year.
3 - The Worm Ouroboros By E.R. Eddison
The book that influenced Tolkien to write The Lord of The Ring, enough said about it.
2 - Seven Realms By Cinda Williams Chima
OK OK, I love the way she writes, The Demon King is actually the book that got me more into reading fantasy. The way this universe is set, and the story telling keeps you waiting for more, definitely reviewing this someday.
1 - One Piece by Eiichiro Oda
It's no secret to my friends and entourage that I am a fan of Japanese manga and animation, but every time I tell someone that I haven't read or watched One Piece they go full berserk on me ( get it? berserk? like the manga? no? ok é_è )
So this year, I have decided to actually read it and get it over with, cause let's face it, I am probably gonna fall in love with it, even though I don't have that much time.